Chekko Cold Pressed Virgin Groundnut Oil
Regular price

MRP: Rs. 235 / ₹ 235

Regular price

Rs. 235 / ₹ 235

Sale price

Rs. 235 / ₹ 235
Traditionally Extracted Pure Wooden Cold Pressed Virgin Groundnut Oil from first grade, high-quality Groundnut Kernels.
High in energy, it's a blend of nutrients and antioxidants. Packed with vigorous health benefits that are present in the carefully selected high-quality Groundnuts. Chekko Wooden Cold Pressed Virgin Groundnut Oil benefits the heart and boosts skin health.
Uses and Benefits of Virgin Groundnut Oil
Rich source of vitamin E lowers the visible signs of ageing such as dark spots and wrinkles when few drops are regularly applied directly to face
The anti-inflammatory properties of sesame oil alleviate pains and prevent arthritis.
Other uses of groundnut oil
Used as a salad dressing
Best for fried snacks.
Used to prepare gravies, stir-fries and curries
Used as a barbeque marinade
Dips, sauces and peanut butter.
Popular recipes that can be prepared with Cold Pressed Groundnut Oil
Groundnut oil is best for chips and pakoras and vada
French fries
Mixed sprouts poha
Paneer veggie wrap
Corn and potato tikkis
Used for lightly nutty taste
Used for deep frying sauting seasoning and tempering
Cold Pressed Virgin Groundnut oil is used in Andhra Pradesh, Karnataka and Tamil Nadu for making savoury items and snacks. It is also a part of the staple diet of South India.
Why Chekko Wooden Cold Pressed Virgin Groundnut Oil?
The

 

traditional wooden press

 

method provides Pure Cold Pressed Groundnut Oil.
The non Heating method

 

preserves the goodness of Groundnut

 

and its health benefits.
Hygienic packaging with

 

eco-friendly metal tin.
Free from Preservatives, Trans Fat, Artificial colours.
More naturally aromatic and adds taste to the dishes.
All our products are from

 

Non – GMO seeds, free of artificial.
Global quality control

 

and hygiene practices are followed for each product

 

ISO -22000.
Manufactured and Marketed by:

Agamahil Natural Products Private Limited,

1/56.1, Marukkalampatty, Puthur Kil Mugam, Namakkal, Tamil Nadu - 637212
Country Of Origin
Share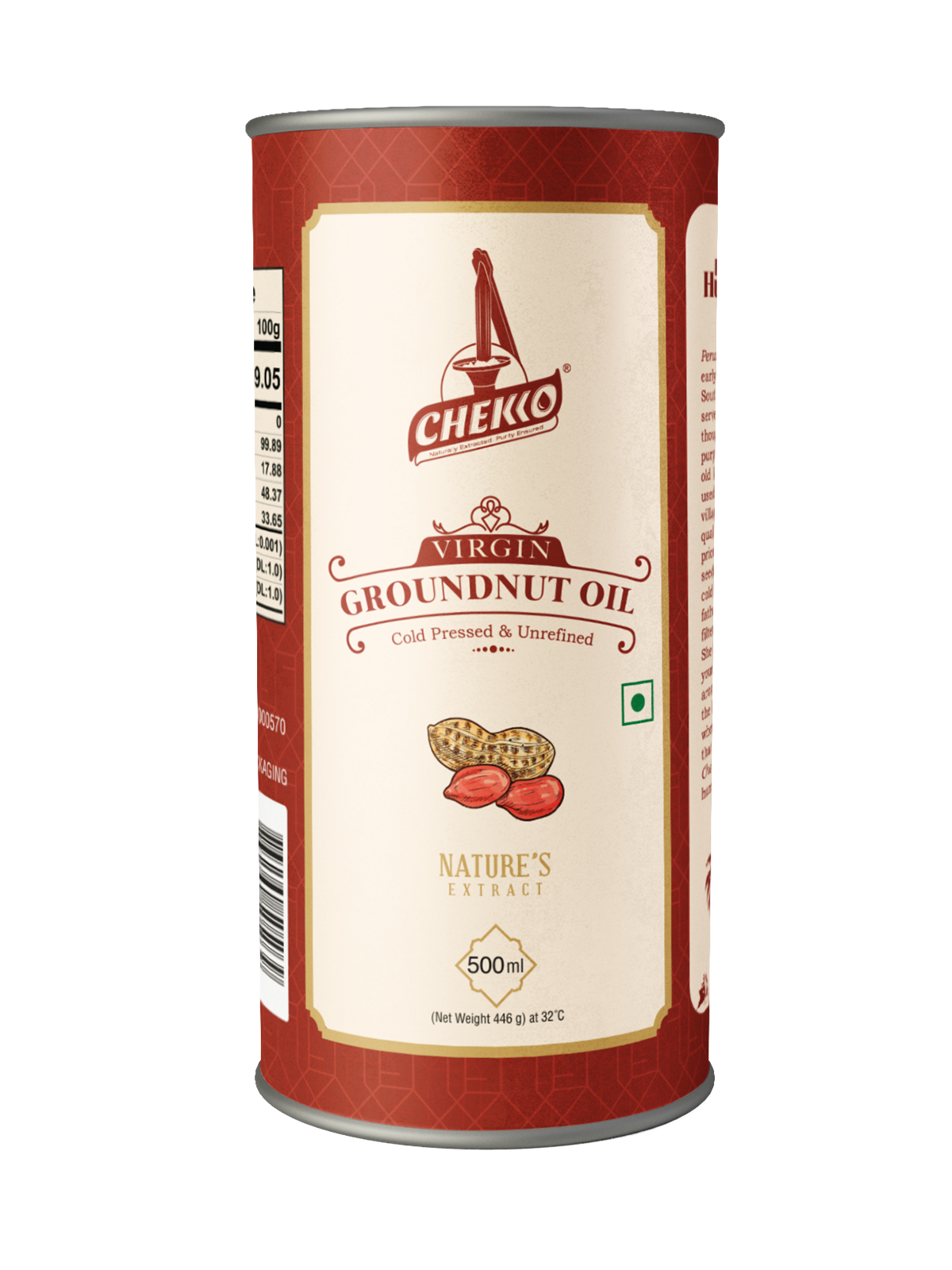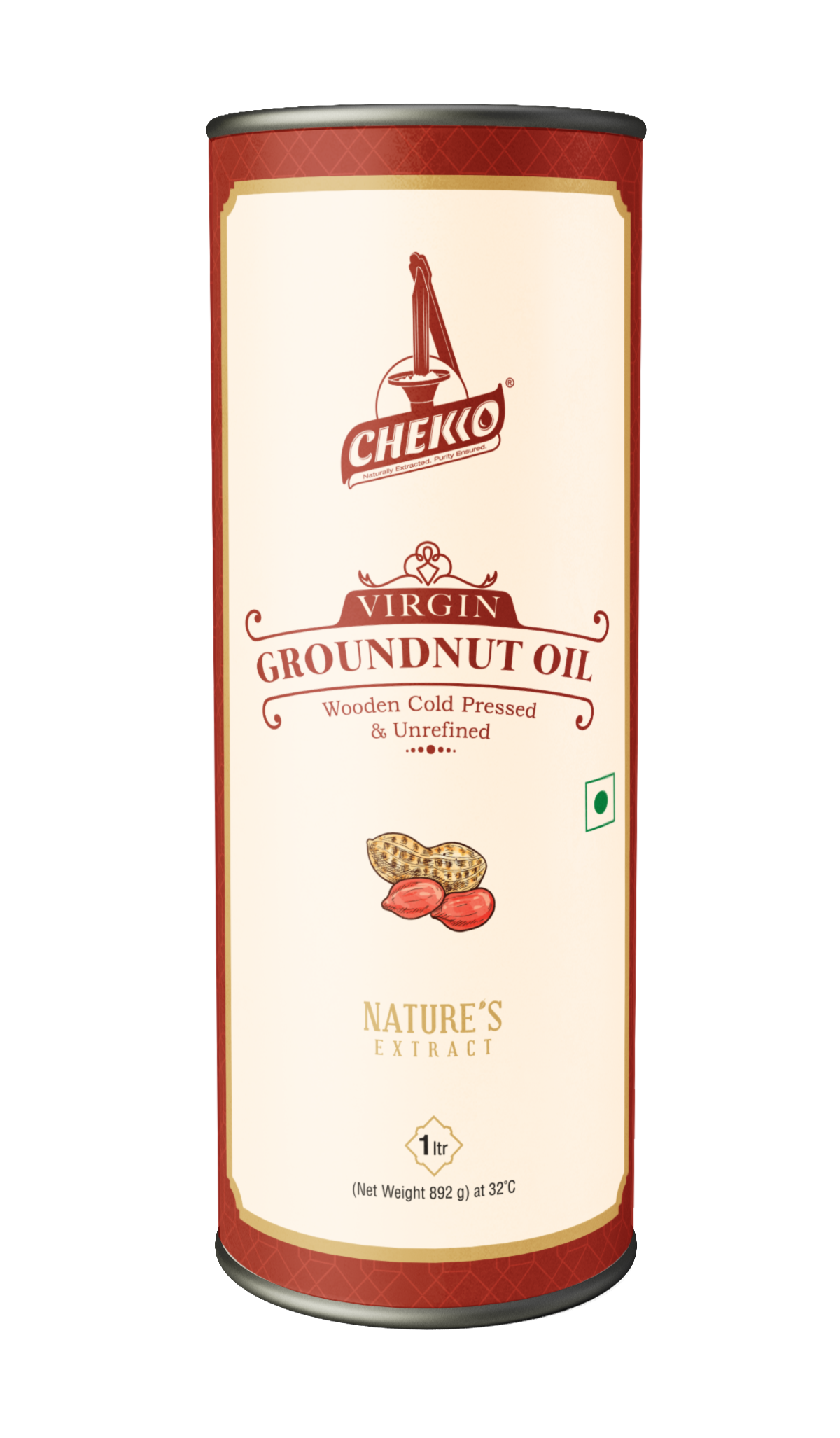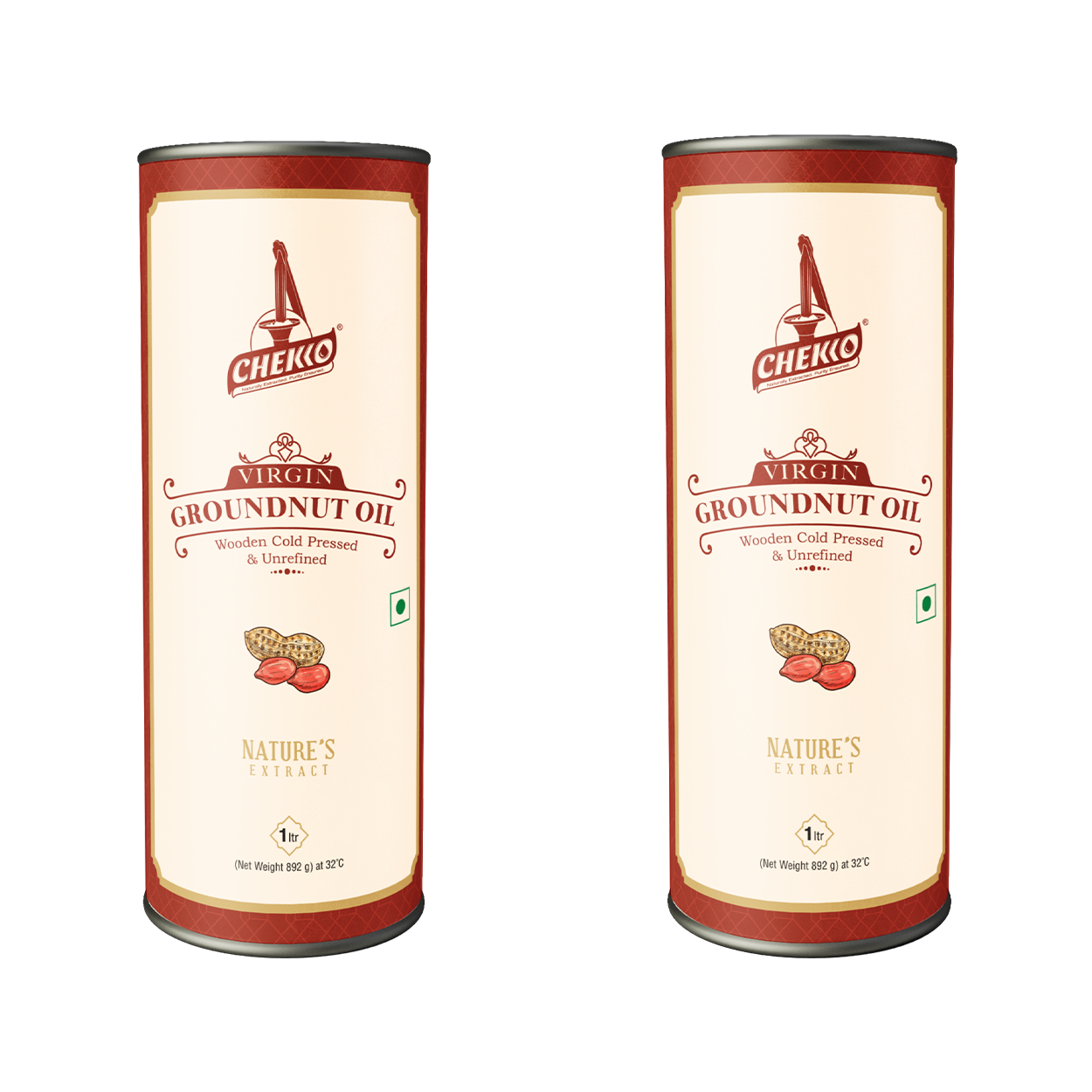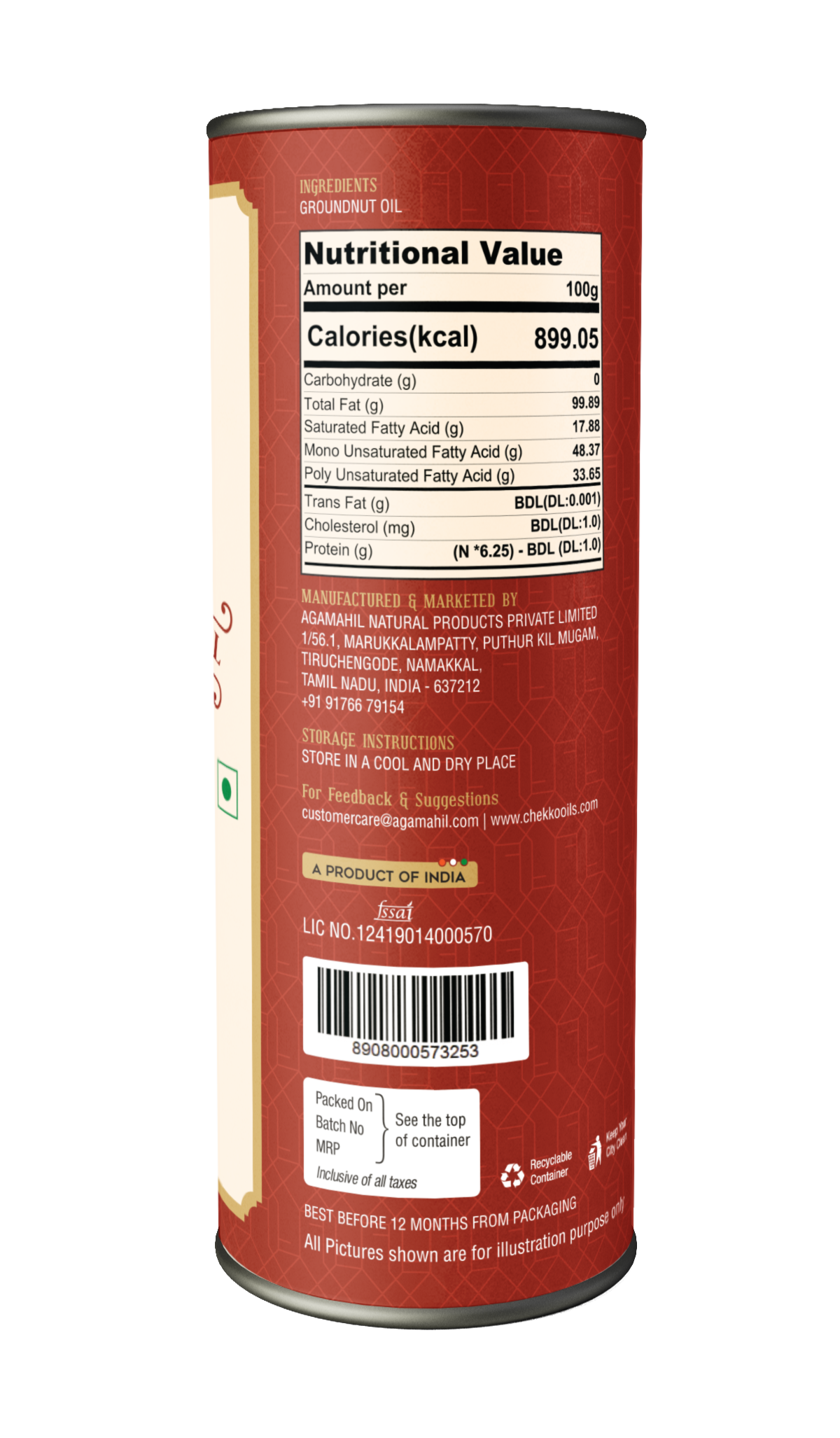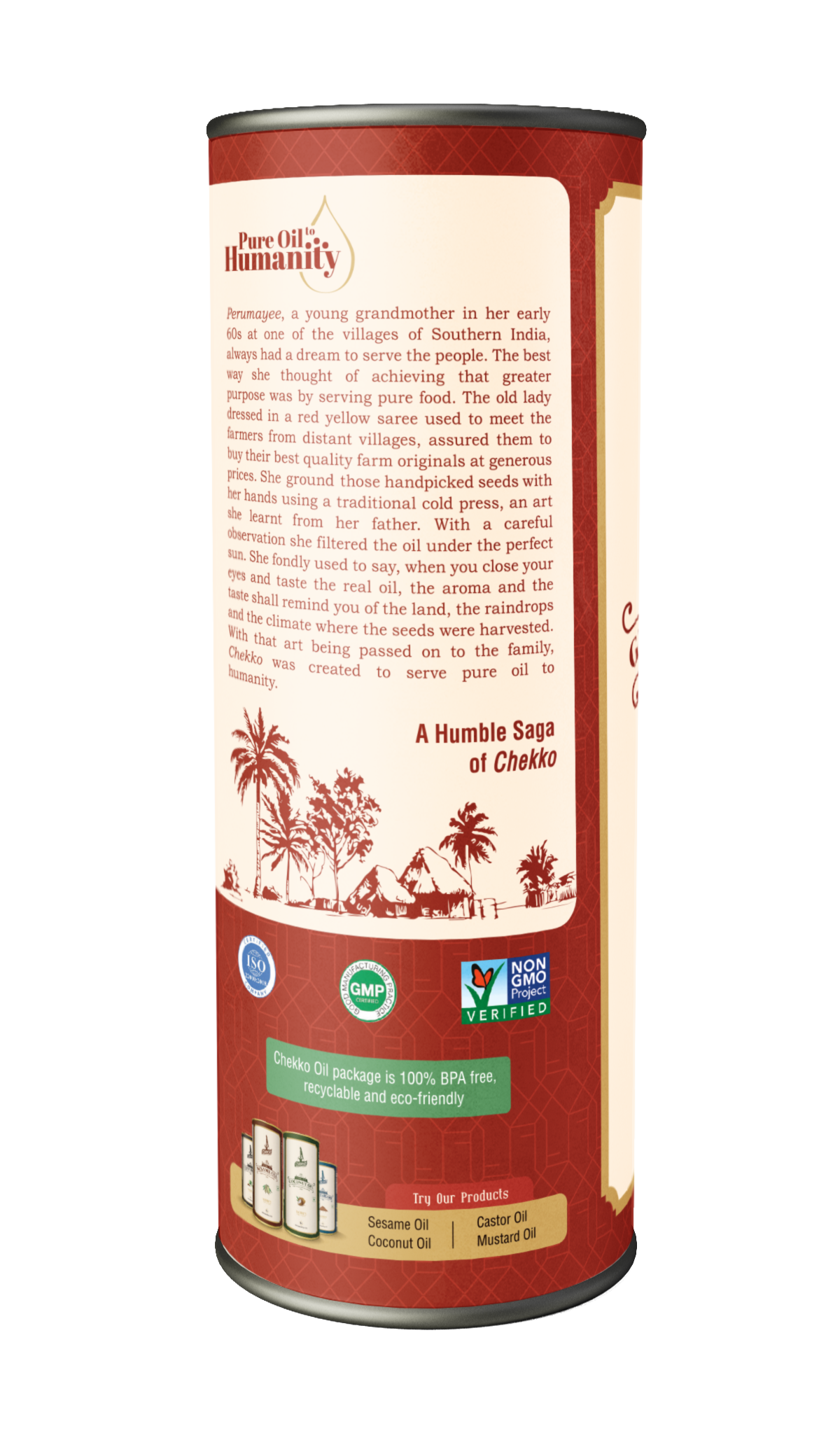 Consistant late delivery
I have been ordering Oils from so many months but got the delivery in time only once. I dont know why I always get late delivery even after sending a snapshot of order to the concerned person. they say that they are taking a special care for my order. Now I realized that the special care is causing the delay
Add products
Kindle add Eelupai Oil (Linseed Oil).
We need a good quality oils. So we are requesting you.
Why Chekko
Healthy

Naturally Processed with safe and transparent ingredients

Hygienic

Made in ISO 22000, HACCP, FSSAI, GMP certified Factory

Tin Packaging

Packed in environment friendly recyclable Tin Containers

Free Shipping*

Free Shipping for all orders above Rs.349 within India