Chekko Cold Pressed Virgin Sesame Oil
Regular price

MRP: Rs. 609 / ₹ 609

Regular price

Rs. 620 / ₹ 620

Sale price

Rs. 609 / ₹ 609
Traditionally Extracted Pure Wooden Cold pressed Virgin Sesame Oil from first grade, high-quality Sesame seeds
Purely Extracted Cold Pressed Virgin Sesame Oil from first grade, high-quality Sesame seeds dubbed as "The Queen of Oil Seeds". Through the best knowledge and belief of ethically and environmentally sustainable practices our Chekko Cold Pressed Virgin Sesame Oil is produced, they have culinary and cosmetic benefits.
Uses and benefits of Virgin Sesame Oil:
Virgin Sesame oil is an effective mouth rinse and can be used for oil pulling the antibacterial and anti-inflammatory qualities make it a traditional remedy for strengthening teeth, gums and prevents tooth decay.
The nutrients and their properties in virgin sesame oil are highly beneficial to skin and hair, promotes hair growth, treats head lice, combats hair loss due to stress.
Sesame oil is a great conditioner it keeps the hair moist it also prevents headaches and baldness, preserving the hair colour and strengthens the roots.
Massaging with sesame oil will cool down the body heat, it will penetrate inside the body through the head, ears, and feet and gives a healthy deep sleep and concentration.
Sesame oil is beneficial for the eyes, it improves visions and removes impurities from the eyes.
Sesame oil is a great carrier oil that is used in cosmetics
It's safe to massage infants and children.
It clears and cleanses all body channels.
Popular recipes that can be prepared with wooden Cold Pressed Virgin Sesame Oil
Cold Pressed Virgin Sesame oil can be mixed with foods that are hot and spicy used in traditional curries and gravies as it neutralizes the heat. It is often mixed in with a type of chilly powder that accompanies Idli and Dosa as well as rice mixed with powdered spices. They can be the best choice for tempering and flavour enhancement.
A few popular recipes where Sesame Oil can be used
Schezuan Chilli Garlic Sauce
All variety of vegetable and meat pickles
Best for Biriyanis
Salad dressings/ baking
South Indian Ullundu kali
Country Chicken Curry
and practically anything!!
Sesame oil is most popular for cooking in Asia, Korea, China and South Indian states of Karnataka, Andhra Pradesh and Tamilnadu.
Why Chekko Cold Pressed Virgin Sesame Oil?
The

 

traditional wooden press

 

method provides Pure Cold Pressed Sesame Oil.
The non Heating method

 

preserves the goodness of sesame

 

and its health benefits.
Hygienic packaging with

 

eco-friendly metal tin.
Free from Preservatives, Trans Fat, Artificial colours.
More naturally aromatic

 

and adds taste to the dishes
All our products are from

 

Non – GMO seeds, free of artificial.
Global quality control

 

and hygiene practices are followed for each product

 

ISO -22000.
Manufactured and Marketed by:

Agamahil Natural Products Private Limited,

1/56.1, Marukkalampatty, Puthur Kil Mugam, Namakkal, Tamil Nadu - 637212
Country Of Origin
Share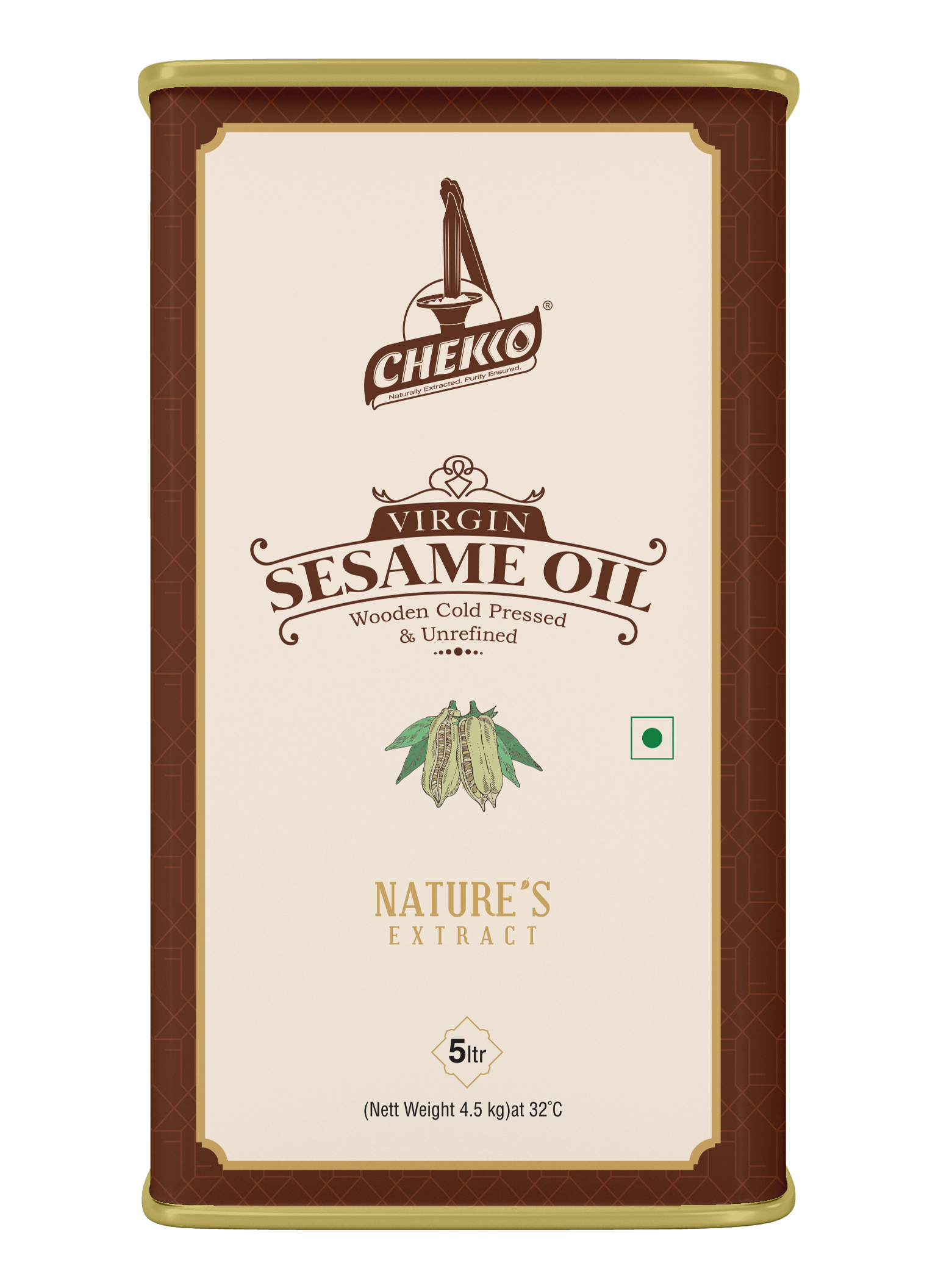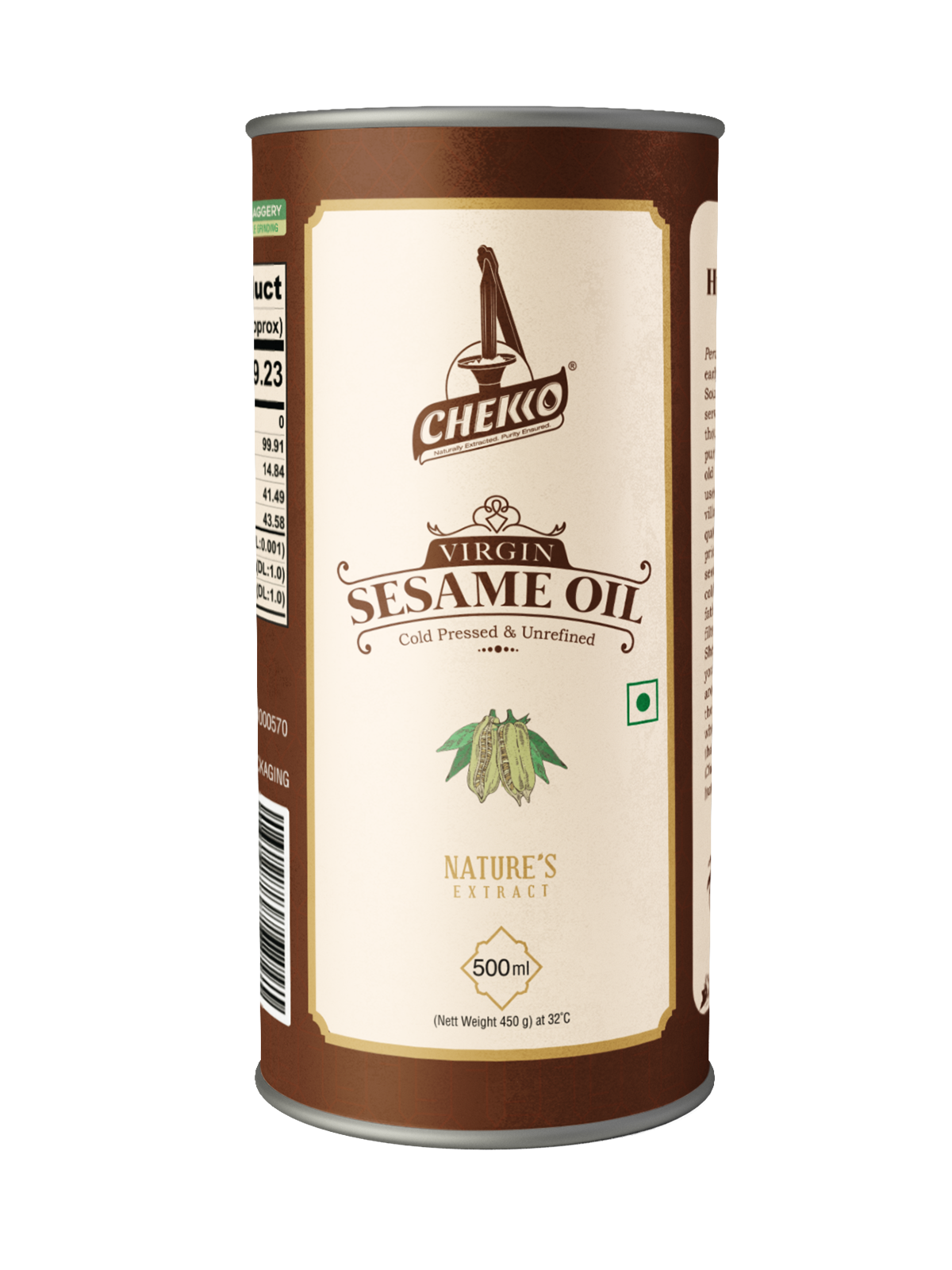 Chekko Cold Pressed Virgin Sesame Oil
Best brand
One of best brand and trustworthy as well as taste is good...i will keep on purchasing it
Why Chekko
Healthy

Naturally Processed with safe and transparent ingredients

Hygienic

Made in ISO 22000, HACCP, FSSAI, GMP certified Factory

Tin Packaging

Packed in environment friendly recyclable Tin Containers

Free Shipping*

Free Shipping for all orders above Rs.349 within India